When friends become enemies and enemies become lovers.
Born in the blood of Sierra Leone's Civil War, enslaved, then sold to the US as an orphan, Base Branch operative, Sloan Harris is emotionally dead and driven by vengeance. With no soul to give, her body becomes the bargaining chip to infiltrate a warlord's inner circle, the man called The Devil who killed her family and helped destroy a region.
As son of the warlord, Baine Kendrick will happily use Sloan's body, if it expedites his father's demise. Yet, he is wholly unprepared for the possessive and protective emotions she provokes. Maybe it's the flashes of memory. Two forgotten children drawing in the dirt beneath the boabab tree. But he fears there is more at stake than his life.
In the Devil's den with Baine by her side, Sloan braves certain death and discovers a spirit for living.
---
Paperback: 272 pages
Published Date: September 27, 2014
Publisher: MM Publishing LLC
*WARNING: drugs, hot sex and everything that usually comes with warlords*
---
****STARS: 4****
---
This was really interesting. My first time reading Mitcham, but I seriously enjoy the thought of a super secret military branch where you don't even recognize your own brothers and sisters who serve the same purpose. They could be anyone… anywhere… and you'd never know.
Sloan was endearing to me because of how detached she is from all the good things in life. She's had a horrid childhood that words couldn't even attempt to explain, and all that rage and blood lust points to one man: warlord Deveraux Kendrick, Baine's father. She knew her enemy's son a long time ago, the only light in her darkness. I liked their complicated relationship because they turned into such two different people, but still managed to find the spark that gave each other hope in a better tomorrow.
The plot was good, and I liked the setting being in Deveraux's house. Much more anticipating and thrilling, leaving you to wonder if either will get caught by the enemy's eyes and ears hidden throughout the mansion. The writing style was very beautiful to me, and though it took a while to get used to, get into it I did.
It's full of action, dry humor, sexy times and some heart-throbbing moments that just makes you wanna go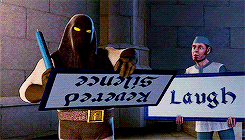 Happy Reading,
A Little Darling