Were bosses allowed to look at their secretaries that way?
27-year-old Stavros Manolis urgently needed a secretary of a certain caliber, but the only one who met his standards was a troublesome young woman who flouted authority whenever she could. She grated on his nerves, but she also made his blood quicken the way no woman had, not even the one he had once loved and lost.
24-year-old Willow Somerset knew she couldn't afford to antagonize her Greek billionaire boss, but she couldn't help it. He was so damn perfect, and she hated it. But what she hated more was the way her body could only come alive in his arms.
Willow knew she could never have a chance with Stavros. But then she caught him looking at her- in a way a boss should never look at his secretary.
Could that be what she thought it was?
---
---
Page Count: 123
Published Date: March 5, 2015
**WARNING: KINKY FUCKERY*
---
---
*****STARS: 5*****

How. Dare. You.
So I read this last year, but I never did get around to actually reviewing it on my blog. After rereading this (and no, I didn't add it to my 2016 reads) Stavros is pretty much my favorite Greek billionaire now. It's the way he's such a gentleman with the world but a prickly Dom (you know it's true, Stavros) with his sweet- *chokes* -little secretary, Willow.
He's also one of the more annoying billionaires I want to choke, preferably with a 12-inch— er, Alessandro. How could he be so stupid??? But again, this is something I often ask myself when it comes to these broody idiots….
The plot was really good, not as dramatic as some, thank God. There's only so much heartache I can take when it comes to this author, and she drives me. Up. The. Wall. And down into hell with some of her stories. Really sticks it to ya, you know? The seemingly level-headedness (is that a word?) made it easier to take in all the bad, teary-eyed, what-the-fuck scenes that happened in here. Maybe that's why I don't despise him as much.
I just really loved their chemistry. He's trying to keep his cool facade in place, she can't help but bully him- which I loved her for, by the way -and yet throughout the story, they managed to teach each other a little something-something. Compassion. Control. Confidence. Verbal communication (ha). But most of all, excluding the times I wanted to die for the both of them, I just overall loved that I was entertained by their romance. They went from one of the most awkward nights between a man and a woman to a professional boss/secretary, continuing with a heated taboo relationship filled with unspoken insecurity and lust, only to finish with- with-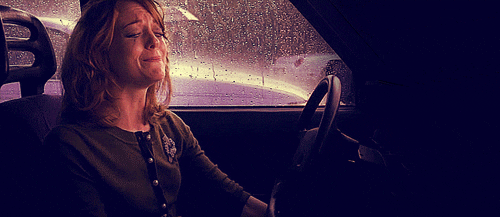 A bit silly with the monologue, I enjoyed the intensity of feels with this dramatic romance. If I wasn't laughing, I was crying or finding a place to hide so I could read about them getting it on over this furniture or that. Whew. I recommend this to those who are just trying out Marian Tee now. Definitely an easier way to get into this sadistic author's work. Or you can start with Helios, yet another great three-part story of her Heart Racer's MC member. It's perfect for beginners. Trust me. Happy Reading,
A Little Darling