After serving out a year of hard labor in the salt mines of Endovier for her crimes, 18-year-old assassin Celaena Sardothien is dragged before the Crown Prince. Prince Dorian offers her her freedom on one condition: she must act as his champion in a competition to find a new royal assassin.
Her opponents are men- thieves and assassins and warriors from across the empire, each sponsored by a member of the king's council. If she beats her opponents in a series of eliminations, she'll serve the kingdom for three years and then be granted her freedom.
Celaena finds her training sessions with the captain of the guard, Westfall, challenging and exhilarating. But she's bored stiff by court life. Things get a little more interesting when the prince starts to show interest in her… but it's the gruff Captain Westfall who seems to understand her best.
Then one of the other contestants turns up dead… quickly followed by another. Can Celaena figure out who the killer is before she becomes a victim? As the young assassin investigates, her search leads her to discover a greater destiny than she could possibly have imagined.
---
Genre: YA Fantasy, Romance
Title: Throne of Glass
Series: Throne of Glass #1
Author: Sarah J. Maas
Publisher: Bloomsbury USA Childrens
Source: Amazon
Pages: 416
Date: 8.7.12
Rating: 5/5
---
Dear Reader,
I am both so upset and relieved that I'm only reading this now. The writing is absolutely breathtaking, the world built up is a place I just want to get lost in (you know, set safely somewhere in the story lol don't wanna die…) and the characters were just freaking brilliant.
So, I was deterred because of all the negative things reviewers had to say about Celaena's vapid attitude and love for clothing. I decided to wait the series out, but by the time 2016 swung around, new accounted friends were already telling me to read it! So I did, and I am so happy that those reviewers were just picky and personal with their ratings.
Yes, Celaena likes clothes, pretty things, and looking good. And you know what? They didn't dictate the story or what happened when she used her badassery skills as an assassin to defeat the other champions competing for the king's personal killing hand.
If anything, I rather liked these things about her. It was different. Fresh. I don't always get to read about girly-girls who can also strut a pair of brass balls bigger than the next boy's. And it was such a well-deserved thing for her to have. She's been through hell and back in those mines, the least she can do for herself is treat herself, for shit's sake.
She was funny, both in her serious and obnoxious ways. Her interactions with Captain Chaol and Prince Dorian were great. And the details. Like Dorian sitting on the throne all sprawled out and hot and just-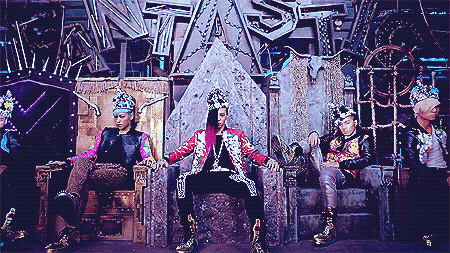 And then there was that scene I can't share but do but can't. Gooood. Maas knows how to make delicious characters. They all couldn't stand each other, but seeing the character development was just another icing on the cake. And speaking of assholes, that's another thing that's great about this book. They're all so different, but the way they interact with each other, the way they changed and adapted, really did it for me. If it wasn't the beautiful and frighteningly cruel world, it was the people themselves and the roles they all played.
I loved everything about this. I love competition stories and the romance on the side was great for her, a positive thing in her life to look forward to and divulge in. The whole thing was just too great.
Happy Reading,
A Little Darling